Our history
LIDOSK was founded in 2010 in Antalya as a youth NGO that promotes intercultural learning, human rights, understanding, active citizenship, volunteering, sports for a healthy lifestyle and environmental protection. Nowadays LIDOSK aims to develop and support youth cooperation in Europe.
We encourage young people, especially with fewer opportunities and disabilities to actively participate in public life, take initiative, develop entrepreneurial spirit and creativity. We aim to fight against all forms of discrimination, support cultural diversity, social cohesion, sustainable development and foster youth mobility across Europe. Lidosk is accredited as a sending and hosting organization as well as a coordinating organization. Since 2016 we sent and hosted more than 300 young volunteers abroad and between 2013 and 2021 we offered to more than 700 youngsters the opportunıty to develop themselves through various Eramus+ projects such as training courses and youth exchanges.
Story of our logo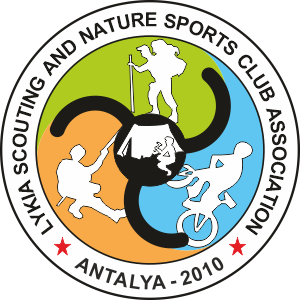 Lycian means COUNTRY OF THE LIGHT " . The emblem of our association had to be an emblem that was suitabl for the name Lycia and also included nature sports . The person who designed our emblem is the handicraft artist Selda War, who studied Traditional Handicrafts in University . After every long research, she decided on the symbol in the middle of the emblem, which Divides the emblem into three equal parts. This symbol means "Sun and Abundance" and it is the most common symbol of ancient Lycia the coins . THUS, Lycian, the Land of the Radiant Sun, embraced nature sports by opening its arms and our association got its emblem. Thank you, Selda Savaş, for your creativity and for giving us this emblem.

Lycian way: A walking route that starts from Fethiye and extends to Antalya and was created by marking and mapping some of the paths in the Teke peninsula, which was historically called Lykia.

Lykia in history: In 120 years after Christ of the Roman Empire or the province of Likya or Lykia (Lycian: Trm̃misa) is an ancient region, which covers a large part of the province of Antalya, Turkey.