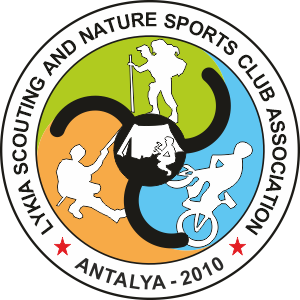 Lykia means "COUNTRY OF THE LIGHT". The emblem of our association had to be an emblem that was suitable for the name Lykia and also included nature sports. The person who designed our emblem is the handicraft artist Selda Savaş, who studied Traditional Handicrafts in University. After her long research, she decided on the symbol in the middle of the emblem, which divides the emblem into three equal parts. This symbol means "Sun and Abundance" and it is the most common symbol in ancient Lykian coins. Thus, Lykia, the Land of the Radiant Sun, embraced nature sports by opening its arms and our association got its emblem. Thank you, Selda Savaş, for your creativity and for giving us this emblem.

Likya way: A walking route that starts from Fethiye and extends to Antalya and was created by marking and mapping some of the paths in the Teke peninsula, which was historically called Lykia.

Lykia in history: In 120 years after Christ of the Roman Empire or the province of Likya or Lykia (Lycian: Trm̃misa) is an ancient region, which covers a large part of the province of Antalya, Turkey.